Where Can Homeowners Get Fire Damage Restoration Services in Claymont?
9/29/2021 (Permalink)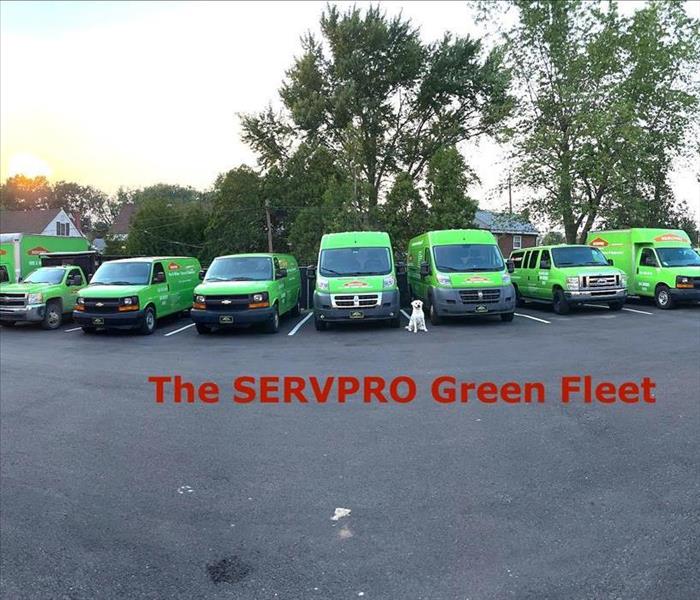 The SERVPRO Green Fleet Arrives as the Red Fire Trucks leave a fire damaged Claymont home or business
SERVPRO is Proficient in Performing Fire Damage Restoration in Claymont
Fire is a damaging element, and if you do not perform repairs quickly, more destruction can occur. SERVPRO has experienced restorers and high-quality equipment to bring your home back to its original state. Our priority during the restoration process is preventing more destruction from taking place. This involves plugging up any weakened structures or holes. We also inspect the floors, walls, and roof to determine if they need repairs or replacement.
The process of performing fire damage restoration in your Claymont home can be challenging, but our technicians know what to do. We know that different types of fires require different methods of repair. SERVPRO uses the right techniques to remove soot, restore wooden structures and upholstery. Based on the extent of the destruction, our customized restoration plan usually includes:
Eliminating charred contents that could seal in smoke like burned wood and insulation
Cleaning and restoring affected surfaces.
Deodorizing the home.
Smoke can leave corrosive by-products behind, which can cause irreversible destruction within a short period. Our SERVPRO team can remove the smoke residues and treat the surfaces at risk using a corrosion inhibitor. Some surfaces that smoke can damage include grout, stone, marble, fixtures, and glass.
To remove bad odors from the property, we can open windows and doors to ventilate it. Our team can also use air filtration units and deodorizers to eliminate the odors. We choose the most suitable deodorizing products based on the odor source. At times, our SERVPRO technicians use many procedures using different professional equipment and products to produce results. For instance, we can use deodorizing pellets or granules to absorb the odors. Their main ingredient is a mineral known as fuller's earth, and it functions as a sponge to absorb and hold smells. Instant odor counteracting pellets are formulated to offer continuous control of lingering smells. We can apply them to a specific area or the whole home.
If you need fire damage restoration services, call SERVPRO of Brandywine / Wilmington at (302) 762-8080. We can make the fire damage seem, "Like it never even happened."