What Can Claymont Homeowners Do About Kitchen Water Removal?
10/29/2021 (Permalink)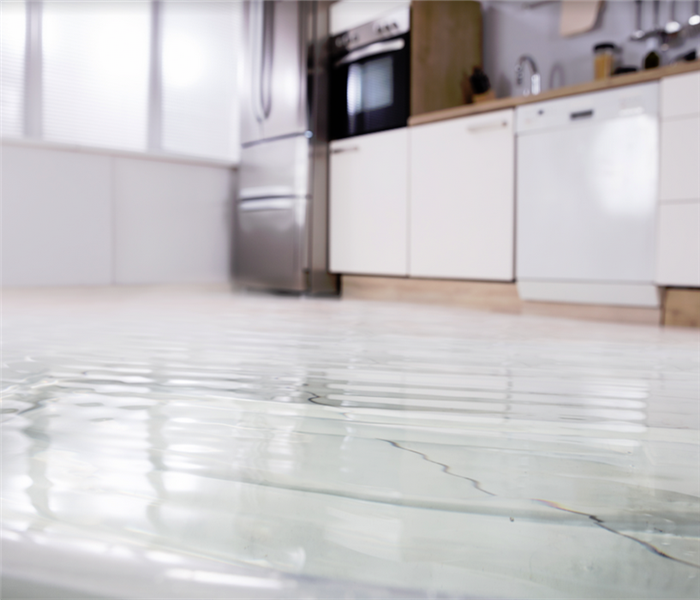 When your dishwasher leaks water onto your kitchen floor, you need SERVPRO. Contact our certified team right away for effective removal services.
SERVPRO Technicians Implement Emergency-Response Water Removal for Claymont Homes
Water damage incidents can potentially leave behind an overwhelming amount of moisture to clean up, whether the culprit is a damaged dishwasher gasket, a refrigerator supply line leak, or plumbing damage affecting a kitchen faucet. Worse still, this moisture penetrates surfaces, delaminates vinyl flooring, damages subfloors, and potentially harbors mold growth that can cause health effects.
Institute of Inspection, Cleaning and Restoration Certification (IICRC) accredited SERVPRO techs respond to Claymont water removal needs with 24/7 service, targeted restoration solutions, and cohesive restoration plans that can be enacted within hours of a homeowner's initial call.
Kitchen Flooring and Cabinetry Restoration After Water Damage
SERVPRO teams tackle water damage in a Claymont kitchen with a variety of strategies:
Cabinets affected by water migration or under-sink leaks can often be repaired and restored after the water has been removed
SERVPRO's penetrating and non-penetrating sensors and meters work in tandem with imaging tools to determine moisture content, establish drying goals, and monitor surfaces during mitigation and drying
Delaminated or damaged vinyl flooring is typically more cost-effective to replace than repair. Subfloors affected by water are frequently salvaged with careful extraction, sanitation with EPA-registered antimicrobials, and structural drying
Axial or centrifugal air movers coordinate with low-grain refrigerant (LGR) and desiccant dehumidifiers to pull moisture off surfaces and into the air. Dehumidifiers isolate this moisture for disposal in a treated sewer
After extracting water and drying surfaces, Odor Control Technicians can focus on using sanitation and odor control strategies, like fogging, to remove odors from a property
Homeowners who want their disasters to look "Like it never even happened" can call SERVPRO of Brandywine / Wilmington at (302) 762-8080.