Our Certified Mold Technicians Arrive Right Away In Wilmington
4/21/2022 (Permalink)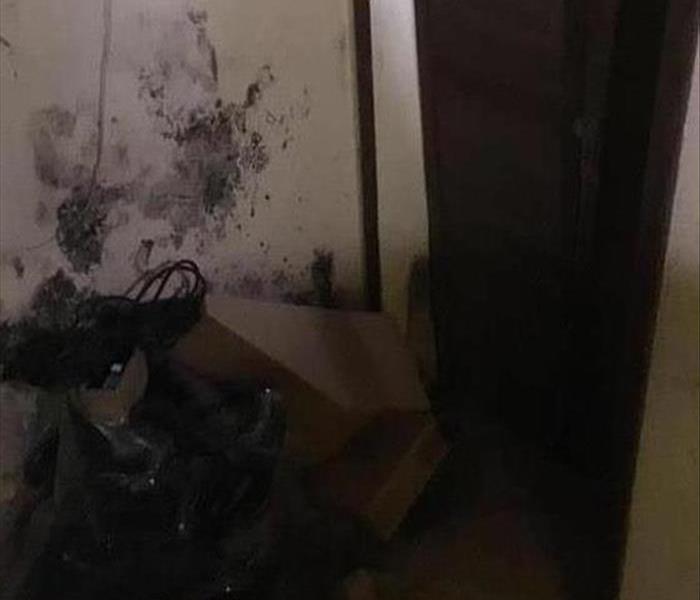 The wet area was left unattended to in this home and as a result this is how much mold grew. We were able to clean this for them right away.
Local Wilmington Mold Remediation Services Available 24/7
Many situations could cause mold damage in your Wilmington home. Any damages revolving around excess water could cause the growth of a mold colony in your home. When the mold spores in your home are exposed to excess moisture, it takes less than three days for a potential colony to begin growing. For this reason, if your home sustains water damage, you must reach out for remediation services before the problem can worsen.
However, it should be noted that humidity could also cause mold damage to your Wilmington home. During the humid months of the year, you must ensure your home has the proper ventilation. According to the Centers for Disease Control and Prevention (CDC), there are a few ways to help reduce the risk of mold in your home when it is humid. The CDC recommends using dehumidifiers or even air conditioning during the hot and humid summer months to reduce the risk of mold spores activating.
However, what would happen if a mold colony growing in your home, despite your efforts? In that case, the best thing you can do is reach out for professional help as soon as possible. Here at SERVPRO of Brandywine / Wilmington, we work around your schedule- whenever you need us, our technicians can bring a van full of advanced technology to your location. Remember, We're Faster To Any Size Disaster. Our technicians are highly trained and have many certifications, including the Institution of Inspection, Cleaning, and Restoration (IICRC). Furthermore, some of our technicians even have general contracting licenses and electronic restoration certification, making the services we can provide to you varied.
Once our SERVPRO technicians get to your home, we can begin to work straight away. In this scenario, the mold damage formed near a window that was kept open to try and beat the heat. Our technicians would quarantine the area to prevent the spread of active spores and then thoroughly clean the area with antimicrobial cleaning agents. We could also set up an air scrubber to run while we work, which can remove airborne mold spores. Once our SERVPRO technicians were finished the job, we could use an antifungal agent to try and prevent regrowth.
If you find your home is in urgent need of mold remediation, do not hesitate to get help. Speak with SERVPRO of Brandywine / Wilmington by dialing (302) 762-8080. Whenever you need our help, we are ready to come to you.