Why Trust SERVPRO for Mold Remediation Services in Wilmington
9/20/2021 (Permalink)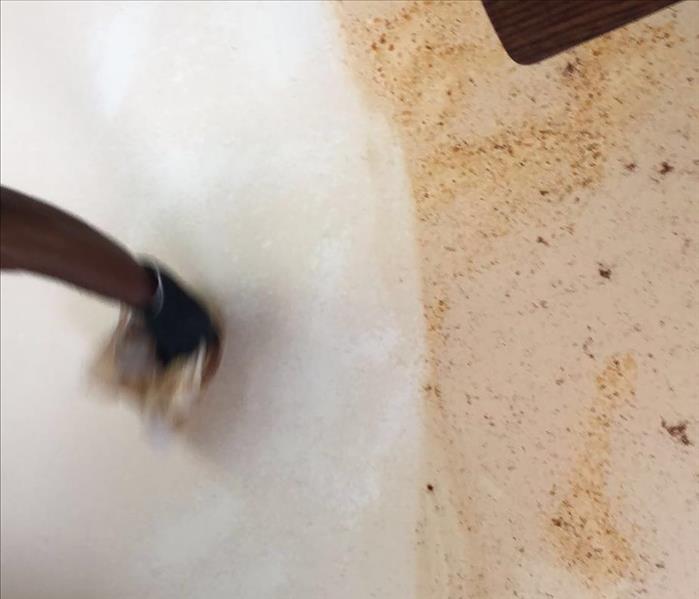 SERVPRO can soda-blast mold stains off porous surfaces like walls and ceilings in your Wilmington home
Homeowners Can Expect High-Quality Mold Remediation Services in Wilmington
Mold can grow across walls, crevices, and other areas. Finding mold in your home is not fun because it can cause health effects. When most homeowners find mold, their first reaction is to scrub it as soon as possible, but this might not be effective. Mold remediation is not a one-play game, and it is essential to know how to identify and treat spore species accordingly. This is a skill that SERVPRO technicians have acquired through practice and experience.
When seeking mold remediation services in Wilmington, we are the right company to call. Mold remediation involves addressing the whole mold issue. It involves the following steps:
Inspection
Air filtration
Containment
Removal of mold-infested materials and items
Cleaning--soda blasting
Restoration
Before beginning the remediation process, our SERVPRO team tackles the source of moisture. We search for signs of water damage and dry the affected areas thoroughly. We can run fans continually around the clock to expedite the drying process. Our team then contains the mold to prevent the spread of mold spores. We can do this through negative air chambers. We create them using physical barriers and negative air pressure to prevent the mold spores from leaving the affected areas during cleanup. Our SERVPRO technicians also turn off the HVAC system at this stage to prevent the spread and exchange of air.
We can filter the air using specialized filters, air scrubbers, and HEPA rigged vacuums to begin trapping mold spores from the air while the mold removal process goes on. Our technicians can use anti-microbial and antifungal treatments to treat and eradicate mold colonies. If porous items such as drywall, carpeting, or furniture have severe mold growth, we can remove the items and discard them following standard local procedures.
Cleaning is also essential when it comes to mold remediation. Our SERVPRO crew can sanitize the affected surfaces. We also deodorize the area using special fogging equipment to remove the mold odors. The level of restoration is dependent upon the space's specific conditions and the amount of time the mold has grown unchecked. Merely removing the surface infestation may not remedy the problem.
SERVPRO of Brandywine / Wilmington has the expertise to eliminate mold. Call us any time at (302) 762-8080 for assistance.